Thermocouples ( ALL Types) K, J, E, R,S,B & T
We are manufacturing various type of thermocouples such as Type J, K, R, S, T, E, and B, (SIMPLEX, DUPLEX & Triplex) which cover all Industry & Applications.
We offer standard & custom made temperature sensors for Aluminium Smelters, Petrochemical, Chemical, Iron & Steel, Cement, Refineries, Oil & Gas, Water & Power, Glass, Plastic, Food, Mining & Fertilizer Industry. Our special designs include different grade of materials which consist of SS446, SS304/L, SS316 , SS 310, Inconel 600/601, Monel400, Hastelloy C, Titanium, Ceramic AP & RA sheath , Teflon coated sheath, Cast Iron, Silicon Carbide, Silicon Nitride and Graphite sheaths.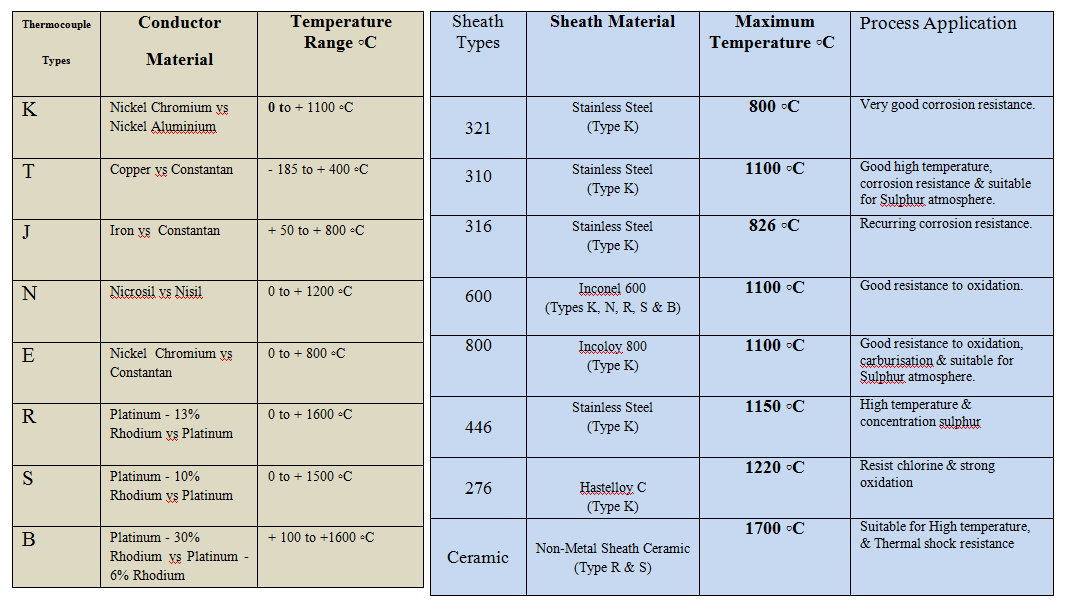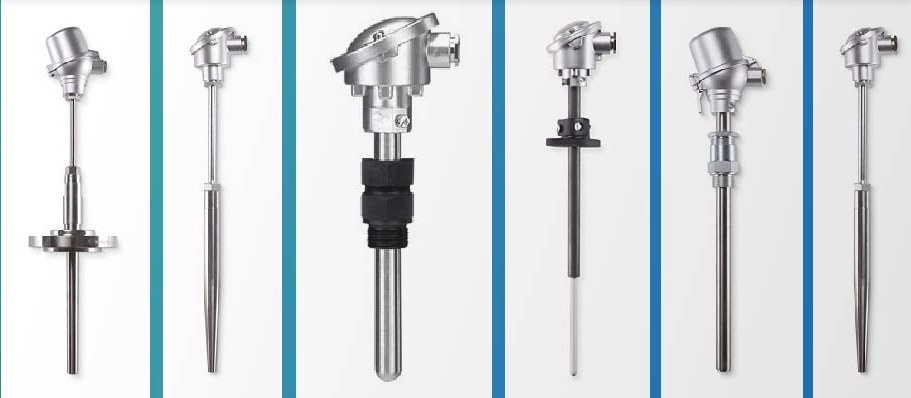 1- Mineral Insulated Thermocouple:-

2- Thermocouples with 20 AWG extension lead

3- Thermocouple with 20 AWG Armored Lead

4- Thermocouple with Double Threaded Fixed Fitting

5- Thermocouple Spring Loaded

6- Thermocouple W/20 gauge extension lead & Male Plug

7- Thermocouple with Male Plug

8- Beaded Thermocouples

9- Multi-Level Thermocouples
Multiple Assemblies are manufactured in three basic designs. Due to many variations that are possible with these designs. please consult us with your individual specifications for these items.
10- Guide Tube Dessign
Thermocouple elements are bottomed into a block which is an integral part of the protection tube assembly. The blocks provide increased sensitivity to temperature change. Individual thermocouple elements are easily replaceable without the need to disassemble the entire thermocouple assembly.
11- Spring Loaded Design
Spring Loaded design forces thermocouple hot junction to come in contact with the inner wall of the thermocouple protection tube providing quick response to temperature change.
12- Free Hanging Design
Thermocouple elements are manufactured to specified and are secured to a Stainless Steel strap by clamps. The Multipoint thermocouple bundle hangs freely inside the protection tube.